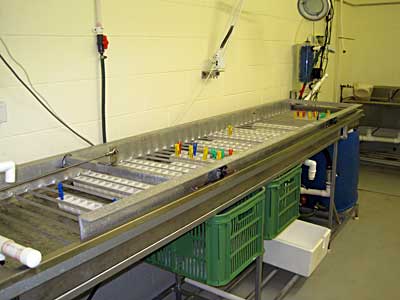 In 2004 we were the first in Australia to trial a crayfish egg incubator on an Australian species and to start a commercial redclaw hatchery.  We currently have three egg incubators in our hatchery and an "out of season spawning facility" to supply eggs to the hatchery.  To read more about the history of the egg incubator click here for a PDF article from Austasia Aquaculture.
There are so many reasons why egg incubation is useful, but in brief the incubator allows us to incubate eggs independently of the mother. The eggs can be cleaned prior to incubation and many pathogens are removed, resulting in increased survival and better grow rates as the craylings produced have an exceptional good health status.
This was as tested and confirmed by Associate Professor Leigh Owens of James Cook University Head, Microbiology and Immunology:
"This is a brief letter to convey to you the startling results in the improvement of the health of your crayfish that have been raised from eggs in your hatchery and then moved to various farms for grow-out. In short, it is a remarkable improvement. Across all three farms, all three viruses fell to zero; Psorospermium levels were also at zero….."
Craylings of the same age can be stocked into a pond in one go which results in less size variation at the end of grow-out.
Grow-out trials of 2 day old craylings (weight = 0.02 grams) from the incubators conducted as part of an AgriFutures funded project produced some pretty good results. 20 000 craylings were grown for 6 weeks in 8 juvenile ponds. The results showed around 70% survival and average weight of 2 grams, that's a 100-fold weight increase
Breeding occurs in our spawning system from mid-winter and the eggs from berried females (mothers with eggs) are stripped and either incubated to crayling in our hatchery or are cleaned and sent to other hatcheries for incubation.
Crayling is a term coined by us for the first post larval stage. It was necessary for clarity to make the distinction between them and the more common and older juveniles. Craylings are about 8 – 9 mm long and weigh less than 0.02 grams. This is the life stage when they are ready to leave the mother's tail and begin their own independent life.
The incubation process takes about 6 weeks and the whole process from breeding till market size (about 70 to 200 grams) takes about 12 months.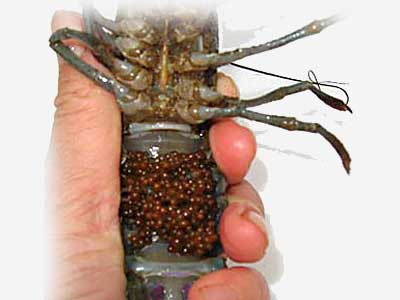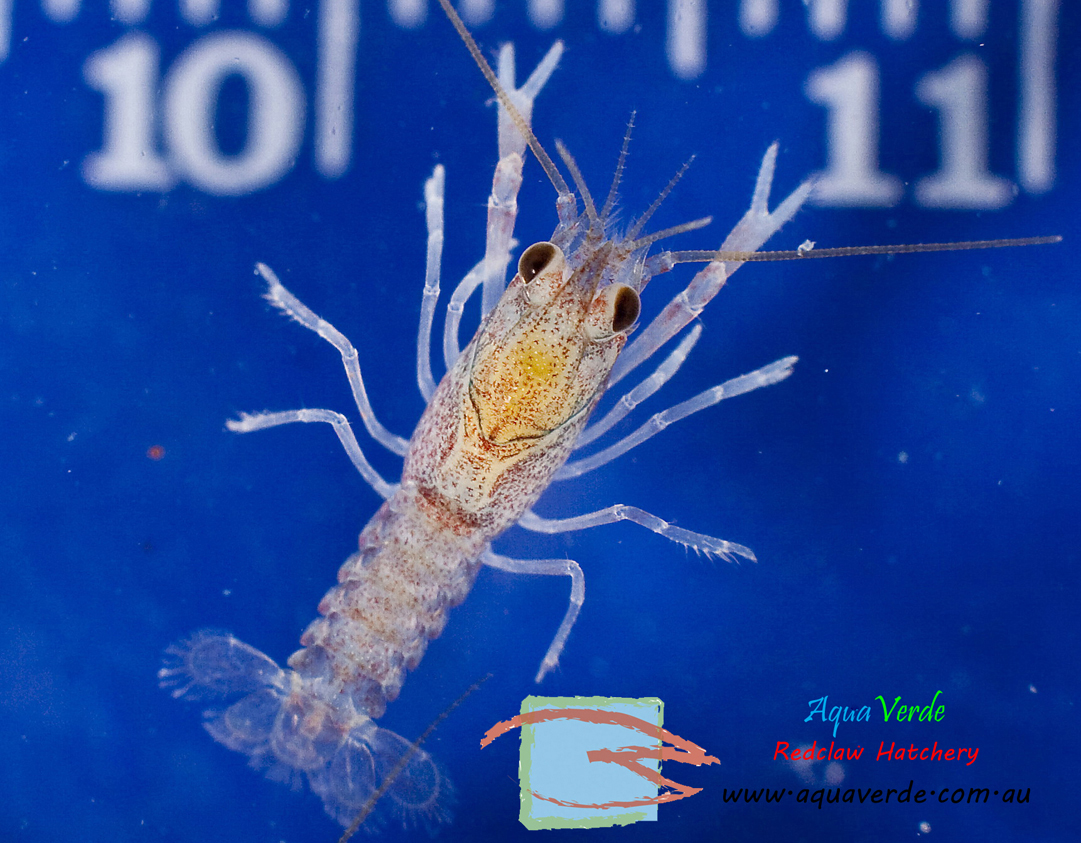 Advantages of using craylings (in a nutshell):
• control over life cycle
• disease mitigation (viral, fungal, bacterial & protozoan)
• genetic improvements
• Farmers can stock known age & quantities (predict eventual production)
• improved husbandry (known bio-mass)
• extend production season
• faster & more even growth