We were the first in Australia to trial a crayfish egg incubator on redclaw (since 2004) and now have three egg incubators in operation and an "out of season spawning facility" to supply eggs to the hatchery all year round.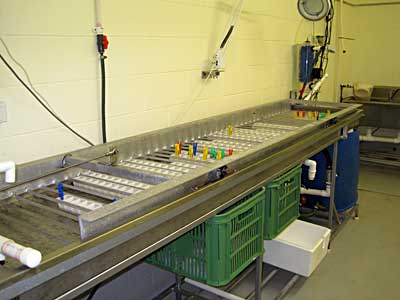 The incubator allows us to incubate eggs independently of the mother resulting in increased survival. An added advantage of the incubator is that the craylings produced have an exceptional good health status and appear to be total Specific Pathogen Free.
This was as tested and confirmed by Associate Professor Leigh Owens of James Cook University Head, Microbiology and Immunology:
"This is a brief letter to convey to you the startling results in the improvement of the health of your crayfish that have been raised from eggs in your hatchery and then moved to various farms for grow-out. In short, it is a remarkable improvement. Across all three farms, all three viruses fell to zero; Psorospermium levels were also at zero….."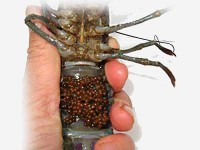 Hatchery produced craylings, when stocked, have increased survival, better growth rates and a more uniformed size.
This is because the little crays are not burdened with fighting disease that they normally would contract while still under the mothers tail.
Breeding occurs in early spring and the eggs from berried females (mothers with eggs) are stripped and incubated in our hatchery until they are ready for stocking (10 mm long and 0.02 g in weight).
These young craylings are then sold immediately to other farmers and growers or stocked into our own farm for grow-out.
The incubation process takes about 6 weeks and the whole process from breeding till market size (between 70 and 200 grams) takes about 12 months.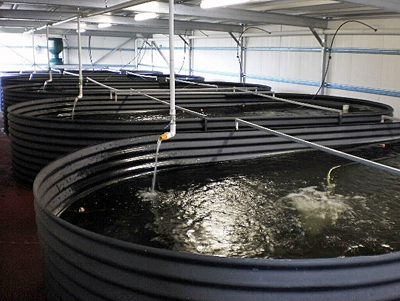 We have just finished our "out of season spawning facility".  This allows us to produce eggs for the hatchery throughout most of the year.  It consists of an insulated shed containing 6 tanks totalling 74 sqm in a recirculation system.  It works by manipulating temperature and the day/night photo period to condition the redclaw into thinking spring is coming and encouraging them to spawn.  The eggs are then taken into the hatchery and incubated to produce craylings.