AquaVerde Redclaw Hatchery & Farm is a family run farm on a total of 10 hectares just outside the picturesque town of Atherton on the Atherton Tablelands Far North Queensland, Australia (an hour inland from Cairns).
Our redclaw crayfish farm and hatchery produces both redclaw for the restaurant trade and craylings from out hatchery for farmers and growers.
We have 30 earthen ponds that are filled with pristine Atherton Tableland water from our natural spring.
Apart from water all we add is some limestone, a dash of magnesium and a good helping of hay – this is all that is needed for growing clean and healthy Redclaw.
A good crayfish farmer encourages the natural ecology of the pond to develop a plankton bloom which provides much of the nutrition for the crayfish. This bloom gives the water that characteristic "green water" look, hence our name "AquaVerde".
A little about us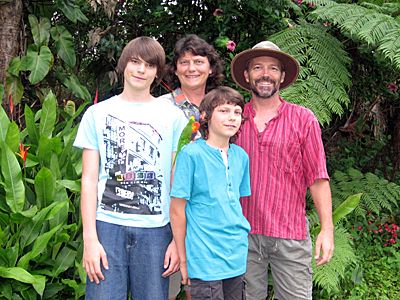 Hatchery and Farm Manager
Colin Valverde, an ex computer geek who went on to study aquaculture at Deakin University, decided that it's better to live and work on a farm than in an office and started AquaVerde with his wife Ursula.
Office Manager
Ursula Valverde-Neff is originally from Switzerland, has a background in social work and office administration as well as further training in bookkeeping and business administration.
Fun Managers
Our two teenage boys are, apart from growing up and helping out, responsible for making life as fun and interesting as possible.