AquaVerde Redclaw is a family run business (about us) on the Atherton Tablelands in Far North Queensland, Australia (about an hour inland from Cairns).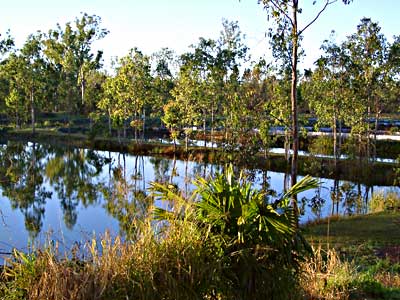 In our pond based aquaculture farm we grow redclaw crayfish (Cherax quadricarinatus) which is a native freshwater crayfish from Far North Queensland. View Redclaw Ecology.
We sell live redclaw crayfish and red claw craylings Craylings are baby crayfish that are 10mm long, weigh .02grams and are ready to leave from under their mothers tail. They are 6 weeks old, have developed from eggs, hatched and undergone 2 larval stages and are now morphologically the same as adult crayfish.  from our hatchery to local and interstate customers and farmers.
Please feel free to contact us if you want more information on our craylings for grow-out, market size redclaw for the restaurant trade or advanced juveniles.
We also cater for locals and tourists who buy fresh products directly from our farm.
AquaVerde Redclaw Hatchery & Farm is committed to professional and sustainable freshwater aquaculture.
We have a current aquaculture license as well as accreditation through Safe:Food Queensland.